Pet-Friendly Apartments in Norton Shores, MI
Finding pet-friendly apartments in Norton Shores, MI can be tough. Here at Shoreline Landing Apartments we certainly understand how important it is to have our companions by our sides. That's why we are a pet-friendly community. We love your pets almost as much as you do.
Not only will your pet find a cozy place to call home, but they'll also be able to take advantage of many of the great amenities within and around our community. Call us today for more information on our pet policies and restrictions.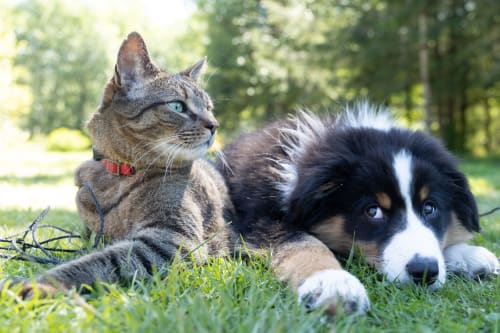 Our Pet Policy
Shoreline Landing allows dogs and cats
Two pets per apartment home
A pet addendum and vet records are required
Pet Fees
$350 non-refundable pet fee per pet

$50 per pet per month
Maximum of 2 pets per apartment
For further details on our pet policy and breed restrictions, please contact our office staff.
Testimonials
Shoreline Landing is a lovely place to live. It is spacious, well maintained, and convenient to everything. I especially like the attached garage which provides convenience and added storage.

- Anonymous
My wife and I live at shoreline. We've lived here since 2012. We would recommend to others. We especially love our garage and nice wooded view we have.

- Anonymous
I love the staff at Shoreline! They are so friendly and always helpful me and other residents when we need it. The property is clean and the residents are friendly.

- Anonymous
As a recent college grad, I have lived in many different apartment complexes, and I can confidently say that Shoreline Landing is the best. The apartment is spacious and comfortable, and pet friendly.

- Anonymous
Nice pool, you can work out when you want, also they have a lobby with free WiFi. Also if you are experiencing problems they are always, willing, and happy to help.

- Anonymous
I am pleased with our living experience here at Shoreline Landing. The staff are a pleasure to talk and work with!

- Anonymous
I noticed when the wind blew kind of hard I had air leaking past my front door seals. One call to maintenance and a few hours later, I now have new door seals! And while the maintenance man (Mark Benham) was here he also adjusted the dead bolt on the lock. Nice work, Mark!

- Anonymous
I was very impressed with Mark B. when he came and fixed my ac, garbage disposal and he also replaced light bulb in bathroom. He was very friendly and knowledgeable! I also am impressed with the other maintenance guy ( forgot his name) for previous maintenance calls that he did for me. They do very good work.

- Anonymous
5 Star Review: Maintenance by Mark is awesome!

- Google Review
Brittney was very fast and helpful

- Apartment Guide Review
5 Star Review: The maintenance crew is top notch! Kurt just came through and fixed everything on my list in record time! Both Kurt and Mark are very personable, very efficient and they get the job done right!! We are lucky to have them both at Shoreline Landings! Great job guys!

- Google Review
5 Star Review: Beautiful Landscape! Professional staff. Maintenance is very helpful and reliable, Kurt and Mark are fast and have great work quality.

- Google Review
5 Star Review: Kurt and Mark are amazing at getting mantience requests done fast and right!! Sarah makes the office look amazing with her hard work and good quality cleaning!! Mary and Brittney are friendly and responsive! Very professional over all!! Love living here!!

- Google Review
Stopped in Monday for an unexpected tour. Very accommodating and friendly staff. Apartments are beautiful and property is well maintained. Will definitely keep them in mind for our move next summer.

- Google Review
5 Star Review: They work really hard to keep the pool clean and furniture updated appreciate the maintenance crew for this

- Google Review
5 Star Review: Shoreline Landing is a BEAUTIFUL community with even better staff! Brittney is so welcoming and attentive to every need. Mary is so polite and warm, and maintenance team ROCK! The model unit is gorgeous and decorated superb! Couldn't ask for a better area with the mall not even 2 minutes away, but quiet enough for a peaceful sleep! If I could give 10 stars I would!

- Google Review
5 Star Review: I've had a great experience moving in and access to all of the on-site amenities. The apartments have a great mobile app to easily submit maintenance requests, pay rent and review the monthly newsletter. Based on my experience with apartments, this place is the best one yet!

- Google Review
Friendly staff, beautiful property, and great maintenance. Any time I've had an issue, maintenance has been fast & excellent at their help with the (only 2) issues I've had here with a drawer and my washer. Additionally, every time I've stopped to speak with management they have been friendly & understanding. The property is located by a pretty creek and a nice forest you can stroll through, and the combination of this with the nice interiors of the units makes this a nice homey community

- Google Review
I enjoy living here. I've met a lot of great neighbors, it's quite a social community with a great pool, firepit and exercise center. Furthermore, it's a great value, and the team is very welcoming and responsive in the rare instances that something needs attention. I will be renewing my lease for sure!

- Google Review
5 Star Review: My family is loving our new apartment here at shoreline landing, brittaney made our move easy! We will definitely be long term residents!

- Google Review